Saturday, September 30, 2017 Reunion Banquet
Saturday evening is when we traditionally wrap-up to our reunion festivities with a banquet. This year was no exception and the pictures tell the story of a perfect finale to a great four days together again. If I missed a photo of an individual or couple, I apologize as I was working with the photos that were supplied to me and some folks might have been missed.
CLICK ON IMAGES TO ENLARGE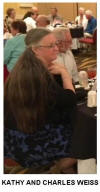 REUNION PHOTOS SHIP'S INFORMATION HOME
For comment, feedback, or to contact the Webmaster e-mail: brooke1@cox.net
This page was last updated on 10/23/17.