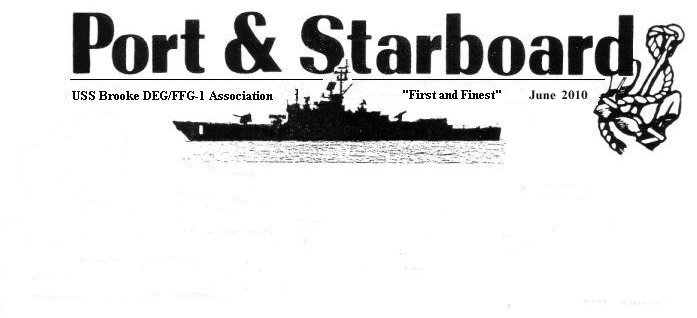 San Diego Registration Begins
Ahoy everyone!
I am looking forward to what might be our biggest reunion ever! From the results of our questionnaire from February, we have 34 shipmates who indicated they will attend and, combined with spouses and guests, it brings our total to 75 or 80+ attendees. We also have 16 crewmembers who indicated they would probably, or try to, make it. See the list on Page 2.
We've changed our schedule slightly since our last newsletter. Mainly, we've added another event on Friday, which includes a tour of "Tom's" museum at Camp Pendleton. Tom has also arranged some "demos" from the Marines for our entertainment. The bus will leave at 0800, so we'll have enough time for the entire morning at Camp Pendleton and lunch in the afternoon at Seaport Village and the USS Midway. We'll return to the hotel earlier, so we'll have time to relax before our poolside Luau and entertainment, beginning at 1800 at the hotel. A Very Busy Day!
After the Saturday business meeting (0800-0900) those who have signed up for the ASW school tour (on the registration form) will be busy most of the morning. It's just a short walk across the street from our hotel. Anyway, those who choose to begin their "free-time" on Saturday, might check out the Old Town Trolley on Page 5. It's a two hour tour (total ride time) and you can hop off and on at any of the 11 stops and make an entire day of it.
While we have scheduled an afternoon at Seaport Village and the Midway on Friday afternoon, you could easily spend 2 days to see it all, including the Maritime museums on the waterfront.
Another new attraction is riding the "Seals" through the streets of San Diego and into the San Diego Bay, from Shelter Island to the sub docks at Point Loma. Linda and I had the opportunity to "ride the Ducks" up here in Seattle last March. It's A Hoot! If we have time, we'll do it in San Diego. Just another great reason to arrive early and stay late in San Diego. Remember, our hotel rates are good 2 days before and after.
Since our last newsletter, Tom and I have had a chance to research a few new future reunion destinations. Tom will report on Albuquerque and its unique attractions and I'll talk about Baton Rouge (which scored high on our question-naire) and Cocoa Beach. I would like to add Baton Rough to our list, especially since they have some great attractions, and adding a day trip to NOLA would round out the reunion. The day trip would include a tour of the "new" WWII museum. They now have an IMAX next door playing a 45 minute video, narrated by Tom Hanks. It's a great video and the museum has expanded since we were there in 2005. (For those who were with us when we evacuated to Baton Rouge, I met a few people at the Embassey Suites who served us hamburgers and coffee at 0600…I said "Thank You" from all of us).
Deadline for registration and hotel reservations is August 25th (30 days out) and we will have another "last-call" newsletter out the first week of August.
Lastly, I would like to thank all those who sent in the last questionnaire. It was the best indicator for our San Diego reunion and also provided information for future reunions. We'll have the field narrowed down by this years' reunion and take a vote on 2011 and maybe 2012. Until then,
See you in San Diego!
Steve
************************************************************************************

************************************************************************************

************************************************************************************

************************************************************************************

************************************************************************************

************************************************************************************

San Diego Reunion Registration

September 29th – October 3rd, 2010

Name____________________________________ _________________________

Name for Badge

Spouse and/or

Guest Name_____________________________ __________________________

Name for Badge

Address:

Street________________________________City__________________State_____Zip______

Phone____________________________Cell____________e-mail_______________________

Room(s) reserved at Holiday Inn Bayside Hotel? Yes or No___________

Arrival Date:_________________Departure Date:___________________________

Special Note: Do you have any special needs concerning Tour Transportation, Hotel or Dietary requirements?

IF YES:____________________________________________________________________________________________________

[ ] Please reserve_________seats for "Welcome Aboard" Party

Wednesday 1700 to 1800 (Harborview Room) 1800 – 2100 (Point Loma Room) No charge.

[ ] Please reserve ________seats for USS Ship Tour & Old Town (Thursday, Sept 30th) @ $15 ea.________

Includes transportation in a Deluxe Motor Coach, water and snacks.

Departs hotel at 0900 and returns by 1700. Approx. 8 hours

[ ] Please reserve________seats for PIZZA NIGHT on Thursday @ 1800 No charge.

[ ] Please reserve_________seats for Camp Pendleton and USS Midway/

Seaport Village Includes transportation in a Deluxe Coach, snacks/water.

Friday, Oct. 1st. Departs hotel at 0800 and returns by 1600. Approx. 8 hours. @ $15 ea.________

[ ] Please reserve________ seats for Hawaiian Luau Dinner and live entertainment.

Poolside. (Friday @ 1800, Live Show @ 1930) (See Luau menu on page 2) @ $45 ea.________

[ ] Please reserve________ seats for ASW School Tour No charge

[ ] Please reserve_________seats for Saturday Night Banquet @ $40 ea.________

Holiday Inn's Deluxe Buffet! (Dinner menu listed on Page 2)

[ ] Reunion Registration Fee: Number of attendees __________ @ $20 ea._______

Registration fee pays for hospitality beverages and snacks throughout the reunion, the traditional

Brooke Reunion Cake, Pizza night and any short-falls for our scheduled tours and dinners.

TOTAL OF ALL EVENTS AND REGISTRATION FEES _______________

To help your reunion hosts plan our reunion, please check off the events you wish to attend

And send this form along with your reunion total as soon as possible. Deadline is August 25th, 2010

*******

Steve Hunt P.O. Box 1692 Tacoma, WA 98401

More details/questions Call Steve @ 253-471-7766 (day) e-mail: thehubbahubba@clearwire.net

************************************************************************************

*******************************************************************************************

Regular Membership dues to the Association are $25 per year. Associate membership (no fee) is available for all surviving spouses of Brooke Crewmembers.

Your current membership expiration date is to the right of your name on the address label on the newsletter. To continue "Port & Starboard" please remit your dues payment in accordance with published dues schedule, payable to the USS Brooke Association and mail to our Treasurer at the address below:


Steve Hunt

USS Brooke DEG/FFG-1

P.O. Box 1692

Tacoma, WA 98401

******************************************************

For more information please visit our website @