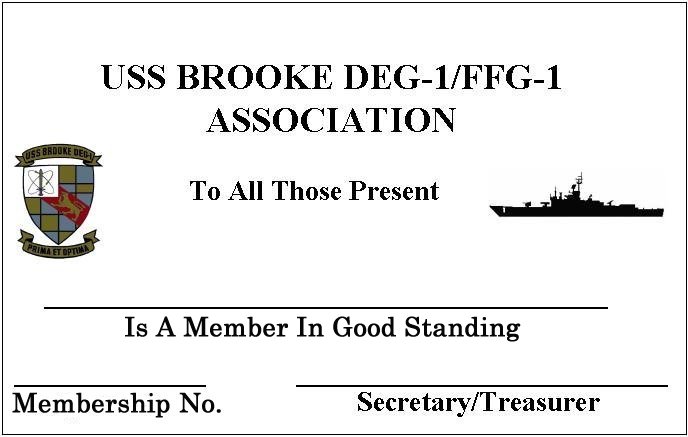 APPLYING FOR MEMBERSHIP IN THE U.S.S BROOKE DEG-1/FFG-1 ASSOCIATION
All persons that have served aboard Brooke, and their spouses, are eligible for regular membership in the Association. Only regular members in good standing who have paid dues, are eligible to vote and to hold office. Family members of any deceased crew member are eligible for associate membership in this Association and shall not be assessed dues. A person who did not serve aboard the ship but who has contributed to the memory of the ship may be designated an honorary member and shall not be assessed dues.
The cost of becoming a member in the Association is $25.00 for crewmembers and $10.00 for spouses. This fee constitutes dues towards the Association and will be billed on an annual basis. The membership year starts on the date the initial fee/dues are received and will run for 12 consecutive months. Your membership expiration date will be displayed on the mailing label of the Association Newsletter.
To submit your application for membership download and print the application page directly from the website and mail it to the Association Secretary/Treasurer at:
U.S.S. Brooke DEG-1/FFG-1 Association
P.O. Box 9692
Tacoma, Washington 98490
If you have any questions concerning the application for membership contact the Association Secretary/Treasurer at: thehubbahubba@aol.com